Concurso literario en lengua inglesa

"We know what we are, but we don't know what we may be" y "When I think, I must speak". Son citas de Hamlet y Como gustéis, respectivamente, ambas obras de Shakespeare que debían incluir nuestros estudiantes en sus relatos presentados para el ENGLISH LITERARY CONTEST 2021-22 organizado por el Departamento de Inglés, con el apoyo del Ayuntamiento de Humanes. Los alumnos premiados en el certamen recibieron en la biblioteca del centro un diploma y una tarjeta regalo de 50, 30 y 20 euros para el primer, segundo y tercer premio, respectivamente.
Los ganadores son:
Categoría 1º y 2º de ESO
1er premio: Marta Sanz Pavón
2º Premio: Ignacio Gonga
3er premio: Javier Nicolás Borzea
Categoría 3º y 4º de ESO
1er premio: Maria Bernaldez
2º Premio: Iria Hernández
3er premio: Kakon Chowdhury
Categoría Bachillerato
1er premio: Caridad Corral
2º Premio: Owen Fernández
3er premio: Ainara Gutiérrez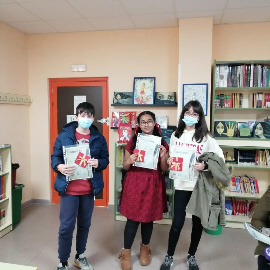 Ganadores del 3er premio

Ganadores del 2º premio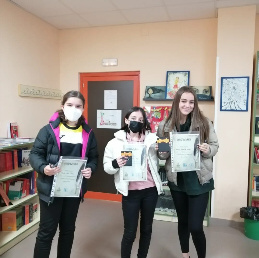 Ganadores del 1er premio

IWHEN THE STRINGS ALIGN
My name is Michael Bachelorette, and I have always been concerned about others thought of me. While growing up, my classmates made fun of me for playing the violin, and my teachers warned me about wasting my time on music lessons instead of styding, Playing an instrument was apparently pointless, but I was the reason for my happiness. When I had to choose a university degree, I decided that maybe my teachers were right and studing something serious was the best thing for my future, so I got into Oxford University's law school. I continued to play in my spare time because I still enjoyed it, but I did not see it as a satable path in my life. On a typical Wdnesday, my whole perspective turned upside down, I finished my last class and while walking to the exit, I heard an angelic noise coming out of the auditórium. Without fighting the temptation, I peered out the door and I saw an empty stage, except for one large piano and a lovely girl playing it, I could not understand why there was no one in the room, because the music was worth listening to. After a few seconds, the girl noticed my presence and stopped playing; we stood in silence for a few instants, _That was amazing_ I said, and that is how I met Alisa, we became inseparable friends since that day. She happened to be studying music at my university. She encouraged me to put all my effort into music and I loved listening to her playing beautiful ballads on the piano. Over time, I started to feel enthusiastic about the violin again and I dropped out of university to devote myself to the instrument. I will allways be thankful to Alisa for gibing me the strenght I needed. Suddenly, I stopped worrying about other people's opinions, and I practiced for hours every day, until my violin instructor introduced me to an excellent violinist, who run a music events venue in London and organized concerts every weekend. Nowadays, I am proud tos ay I am a profesional player, who performs every weekend in the venue. Even though I did not believe in myself all the way, I have learned that we have to know our worth and dream big, so we Know what we are, but we do not know what we may be.
Caridad Corral 2º D Bto
WHAT WILL I BE IN TWO YEARS?
There are billions of peopel. Honest and cruel people. People that are full, and people that are empty. Generous and selfish people. Grateful and ungreateful. Brave and cowards. With this many people, could someone ever be alone? Could someone ever feel lonely? What will I be in two years? Will I still be alone? Will I still feed lonely? What if you used to think that your whole life you would be one of the cruels? One of the empties, of the selfish, or ungrateful or a coward? What if suddenly, someone appears? Someone that says to be like you, but truly they are one of the oters. They are honest, full, generous, grateful and brave, but they can not see it. What will we be in two years? Everyone seems to knw how is better for us to be apart. I wish I could make them see that she did in seconds what others had been trying to do during years. She completely understand me. I am no longer so alone; I do not feel so lonely. What will we be in two years? Is there a possibility that I could be one of the others too? If I tried? If I really tried? Is there a possibility that I could bring her down with me? Then I would truly be miserable. Could she sabe me? Would she? Will she? Could I sabe her? Would I? Will I? What will we be in two years? We have to be saved by anyone but ourselves, and healed the same. We can provide each others with stiches and bandages, but we have top ut them on by ourselves. What will we be in two years? Will it be a forever of darkness? Or will we see the light? We know what we are, but we don't know what we may be. What we may become on our own, but together. What we will.
María Bernáldez 3ºA
WHO WOULD HAVE THOUGHT IT?
I feel anxious and enthusiastic. Today is for sure the most important day of my whole life. If someone had told me I would be here someday, I wouldn't have believed it. Being on a platform, surrounded by loads and people clapping, waiting for receiving a medal was not what I expected from my life. And it is still hard to believe. _Hello, everyone. In this special day, we are here to… The first thing I remember was living in the Street. My family usually had to beg for food and look for a new safe spot to shelter. Life wasn't easy then. My mum used to tell me: "We know what we are, but we don't knw what we may be. Today we are here, but tomorrow we might be in another place. Never lose your hope, Roman". I tried quite hard to follow her advice; however, things just kept going worse. _ Colonel Vanessa Houtman is being awarded for her excepcional job… Becouse of an illness, my relatives died when I was young, and I ended up alone in an adult world. I thought things couldn't go worse, but I was wrong. My life started getting even tougher and I had bad luck. I found myself in the wrong spot at the wrong time. I entered prison and lost all my hope. I thought it was the end of my story, but then… _General Thibaut Marvin is recieving… …I met Fredrik. Fredrik rescued me and treated me as his own son. He took care of me and taught me almost everything I know. He loved me as only my mum had done before. We became best friends and he helped me getting a job. Fort he first time in my life, I started to feel safe and happy: I had home and true friends. I wouldn't be alone again or need to fight for food or shelter. Oh, oh, oh… I think it is our turn. _Lieutenant Fredik Lange and Roman, the bomb-seeker dog, are being awarded today for always saving the day. They save millions of lives with their work…
Marta Sanz Pavón 2º A